100kg scissor lift table manufacturer in china
Scissor lift of 100kg is a light product series of DFLIFT products. It generally USES battery or manual drive, which is convenient to use and greatly saves labor time, improves labor efficiency and reduces production cost.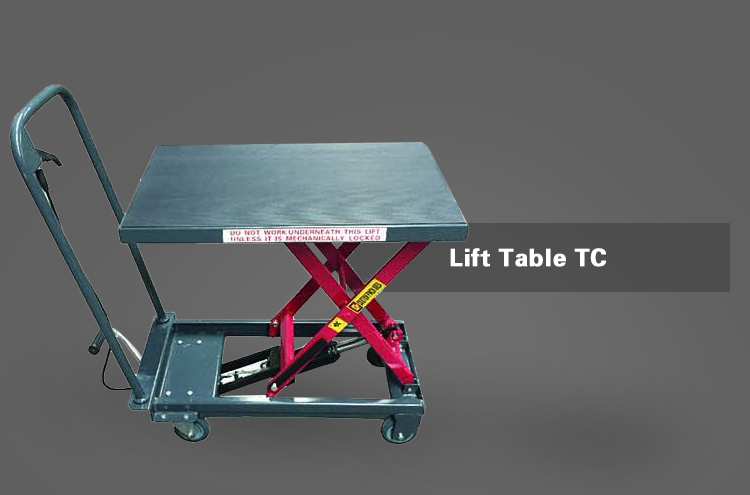 The 100kg scissor lift table is made of high-strength steel. The design structure is reasonable, safe, stable and reliable. The built-in safety valve, fully sealed oil cylinder, manual control hydraulic system lifting, easy and simple operation. 100kg scissor lift table is equipped with a nylon guide wheel to save the operator's physical strength and protect the load wheel and the pallet load wheel. The unique hydraulic pump design makes the pump easy to maintain a desired height for assembly and unloading operations; plus a unique ergonomic design for operator comfort.
100kg scissor lift table parameter table
| | | |
| --- | --- | --- |
| Model | TC22P | TC45P |
| Capacity                                     (kg) | 220 | 450 |
| Max Lift Height                           (mm) | 724 | 876 |
| Min Height                                 (mm) | 235 | 279 |
| Platform Size(LxW)                     (mm) | 705*450 | 813*508 |
| Net Weight                                 (kg) | 40.5 | 74 |
| Gross Weight                              (kg) | 44.5 | 78.5 |
| Package Size                              (mm) | 810*490*245 | 980*560*290 |
1.What the mainly currency DFLIFT 100kg scissor lift table can accept?
Prices are quoted mostly in US dollars or EURO. All prices are subject to change without notice.
2. Can you introduce the shipment of DFLIFT 100kg scissor lift table?
Shipping charges for all DFLIFT orders are calculated based on the shipping method of the order, the weight or volume of the items on the order, and the destination. We normally can do FOB/CIF/DAP/DDP/DDU terms and also we can send the goods via express or AIR according customer's requirements. All wooden packages can be fumigated at our side and we will provide the official certification if your Customers need.
CIF TERM: DFLIFT will arrange the shipping company and will be in charge to assure the goods shipped to destination port. You will not need to pay the shipping company upon delivery to destination port.
FOB TERM: If you would like your preferred shipping company to pick up your order, simply let us know when you place your order. You will be responsible for paying your shipping company sea freight charges besides your order. DFLIFT only in charge of sending the goods to loading port as agree on order.
3. What about the delivery time?
Most of items can be shipped out within 10 days, some items need a little bit longer time to prepare, we will explain these to you if this situation happens.
4. What's the payment term of DFLIFT 100kg scissor lift table?
DFLIFT accepts L/C at sight or T/T, anyway we prefer T/T mainly because it will save money for both parties, Your first order with DFLIFT must be prepaid with T/T, after first time, we accept the payment as we ship out goods, then fax the copy of documents to you, you balance the rest payment, and we will express the original documents to you after we get the money. Any other info please contacts us for detail.