Crawler hydraulic scissor lift is a kind of lifting platform specially designed for high-altitude work in the field with complicated road conditions. Tracked scissor lift has strong adaptability to the environment and can be used in the field without power supply and under complicated road conditions. The crawler wheels, aggravating chassis, driven by diesel engine lifting equipment, storage battery do control and lifting power, through the control button to control flooding lift up and down, you can also use diesel engine as lifting power by manual hydraulic lever control lift up and down, battery charged by an external power supply or charge by diesel engine driven generator.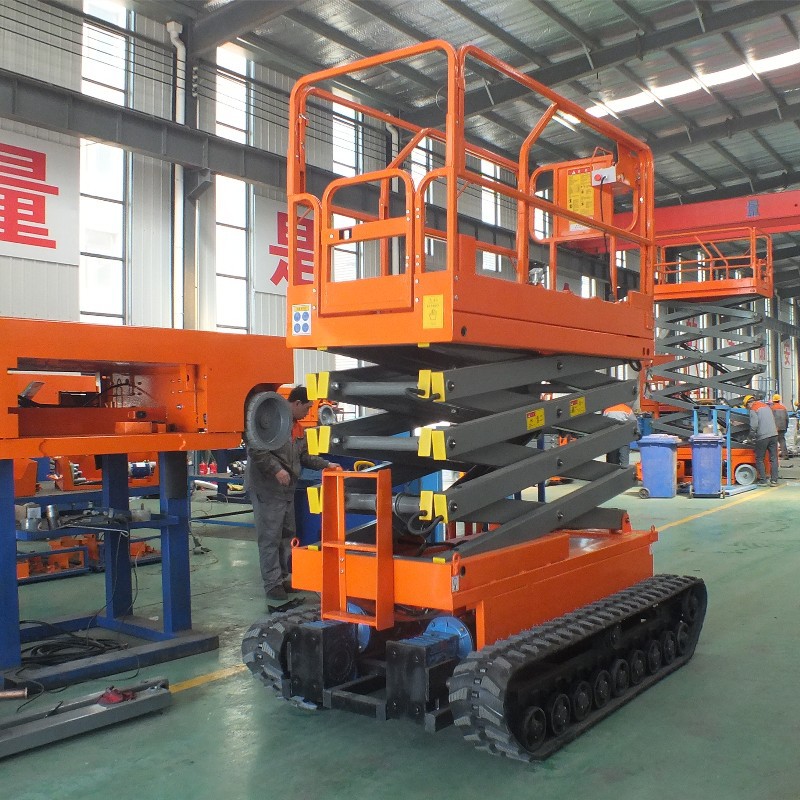 Tracked scissor lift parameter table
| | | | | | | |
| --- | --- | --- | --- | --- | --- | --- |
| model | table size | Overall dimensions | Platform height | load | Platform overhanging | weight |
| GTJZ06 | 2.26×0.81 | 2.655×1.35×2.33 | 6M | 300KG | 0.9 | 2750kg |
| GTJZ08 | 2.26×0.81 | 2.655×1.35×2.48 | 8M | 300KG | 0.9 | 2880kg |
| GTJZ10 | 2.26×0.81 | 2.655×1.55×2.61 | 10M | 300KG | 0.9 | 3020KG |
DFLIFT tracked scissor lift special design:
Tracked scissor lift use chassis of aggravating, at work, don't need a leg, after the elevator rises, do not need to pack up the lift platform cannot walk, greatly improves the work efficiency, at the same time, its caterpillar wheel, increased the area of contact with the earth, muddy road can also walk and work in the field, is the oil exploration, Tracked scissor lift is wild field of communication line installation and construction, the work high above the ideal equipment.
Why choose DFLIFT?
DFLIFT is real manufacturer engaged in research, development, manufacturing, sale and service of aerial work equipment from 4 m to 44 m.
1. We could help customer choose the right model specially..
2. Main elements are used world famous brand.
3. Provide timely delivery, Sales engineers are ready to solve all problem.
4. Provide spare parts, work-site installation guidance and training operation.