Stationary scissor lift is a special hydraulic lift for transporting goods between building floors. Products are mainly transported up and down with various working layers of goods; Stereo garage and underground garage story car lift. The hydraulic system of the Stationary scissor lift is equipped with anti-falling and overload safety protection device, and the operation buttons can be set on each floor and the working table of lifting platform to achieve multi-point control. The Stationary scissor lift has strong structure, large bearing capacity, stable lifting, easy installation and maintenance, and is economical and practical ideal cargo transportation equipment for replacing elevators between low floors. According to the installation environment and operating requirements of the lift, different optional configurations can be selected to achieve better operating results.
Stationary scissor lift: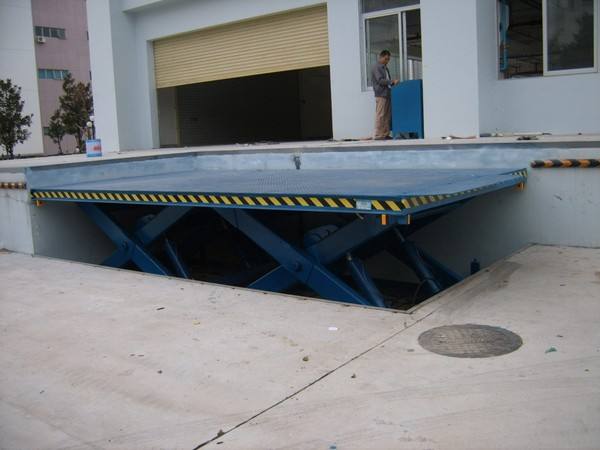 Rated Loading Capacity: 500kg-40ton
Max. Lifting Height: 6m
Type: Hydraulic
Power supply: three-phase alternating current
Table size: specified by customer
Stationary scissor lift specification
Tables 
Max Platform Height
2m
2.5m
3m
3.5m
4m
Lift capacity
3000kg-10,000kg
Speed
70mm/s
Max platform size
3000*6000mm
Installation space(Pit size)
(Platform Width+300mm)*(Depth+60mm)
Closed height
550mm to 800mm
Access direction
180° through type
Control ways
Platform control, main control box
Surface finishing
Powder coating
Color
Available in Blue, yellow, red, dark color
Package
One 20ft container
Installation type
Pit mounted
Working pressure
≤13Mpa
Drive mode
Hydraulic cylinder
Control mode
PLC control
Control voltage
24V DC
Voltage
three-phase alternating current
Foundation requirement
1.      Concrete thickness≥300mm
2.      Concrete strength≥C20 (200Mpa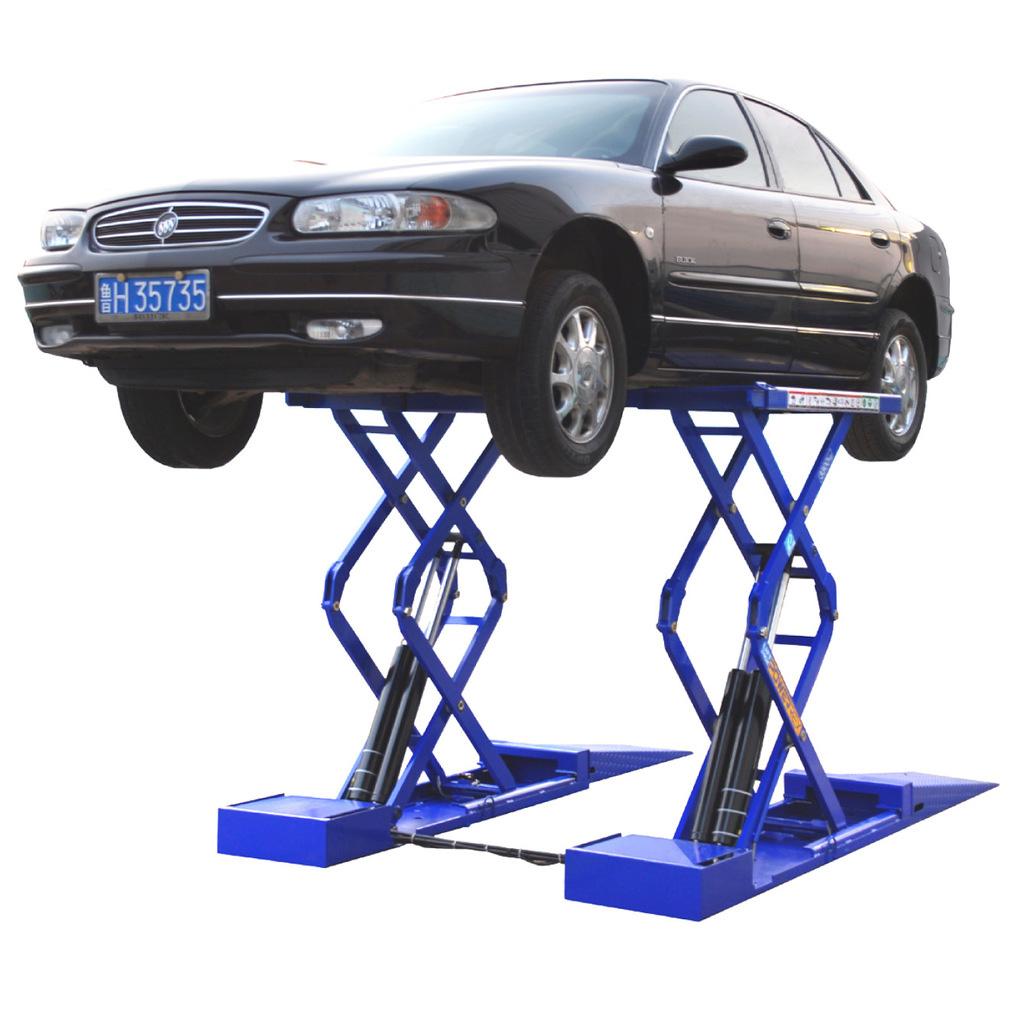 Stationary scissor car lift parameter:
Lifting weight: 3500 (kg)
Rise time: 50 (s)
Lifting height: 1750 (mm)
Power supply: 380 (V) 220V 415V
1. Each lifting Stationary scissor car lift is equipped with a small scissors, which USES the same hydraulic balance control mode as the main scissors to increase the maximum lifting height by 400mm.
2, Stationary scissor car lift can be configured with high precision four-wheel positioning. The hydraulic mode of the primary and secondary oil cylinders ensures the balance of the system, which has the following advantages: No connecting bar, comfortable working, barrier-free, distance between running plates can be adjusted at will.
3. The minimum height of the Stationary scissor car lift is only 220mm, which can reduce the cost for ground installation.
4. The lifting balance can be detected by photoelectric switch to ensure the safety of vehicles.
5. Explosion-proof valves are installed on all cylinders of the equipment to prevent sudden descent after cylinder failure and ensure personal safety.
Stationary double scissor lift:
Stationary double scissor lift parameter:
Rated Loading Capacity: 500kg-40ton
Max. Lifting Height: 6m
Type: Hydraulic
Power supply: three-phase alternating current
Table size: specified by customer
Tilt/overturnedoverturned scissor lift: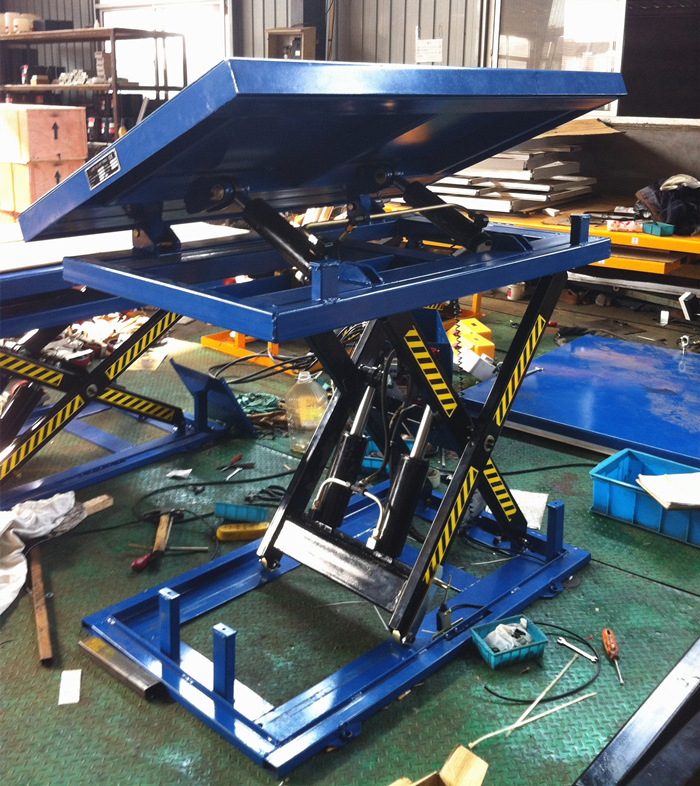 Type of overturned fixed lifting platform:
Rated load: 500kg- 5 ton
Maximum lifting height: 8m
Tilt/cartwheel Angle: 45 degrees
Power supply: three-phase alternating current
Stationary scissor lift design feature
1. 40 tons of load, multi-point control, interactive interlocking between upper and lower floors, safe use;
2, High lifting height, adopt side cylinder, or double test cylinder, smooth operation, no noise, easy maintenance, long service life;
4. Floor doors can be connected, and the inside and outside of the factory can be punched open, which is convenient and saves space;
5, Stationary scissor lift especially suitable for 2-6 floors steel structure workshop, internal and external can be used;
6. Import pump station is adopted for the pump station. If the speed requirement is too high, import customized pump station shall be adopted to meet the ideal delivery requirements.
7. Imported parts are adopted for oil cylinders and seals to solve the problems of unstable oil pressure and oil leakage of parts.
DFLIFT is located in the land of lifting in China. With more than 10 agencies around the world, DFLIFT is a professional supplier of design, production and manufacturing of Stationary scissor lift. We are committed to:
To bring the reliable lifting solutions to customers
To provide simple and effective lifting space to users
Why did you choose ours stationary scissor lift?How To Buy Stationary Scissor Lift
The wide range of stationary cargo scissor lift is mainly used in the production line height difference between goods transport; Material on-line and off-line; Adjust the height of work piece during assembly. High feeder feeding; Lifting of components during assembly of large equipment; Large machine tool feeding and discharging; Storage and handling places and forklifts and other vehicles supporting the rapid loading and unloading of goods. Stationary scissor lift can according to the use requirements, it can be equipped with accessory devices for any combination, such as the safety protection device of fixed scissor lift platform; Electrical control mode; Work platform form; Dynamic form etc.