Battery scissor lift best supplier from China
Battery scissor lift is one of the more advanced scissor lift platforms, and the Battery allows you to use it anywhere, such as outdoors or where there is no power supply. The storage battery of colleagues saves the physical strength of human operation, so that workers can work easily and improve work efficiency and labor efficiency. DFLIFT is a high quality supplier of Battery scissors lift from China. We can deliver the goods to the customer's port directly. You only need to apply for import tariff and land freight.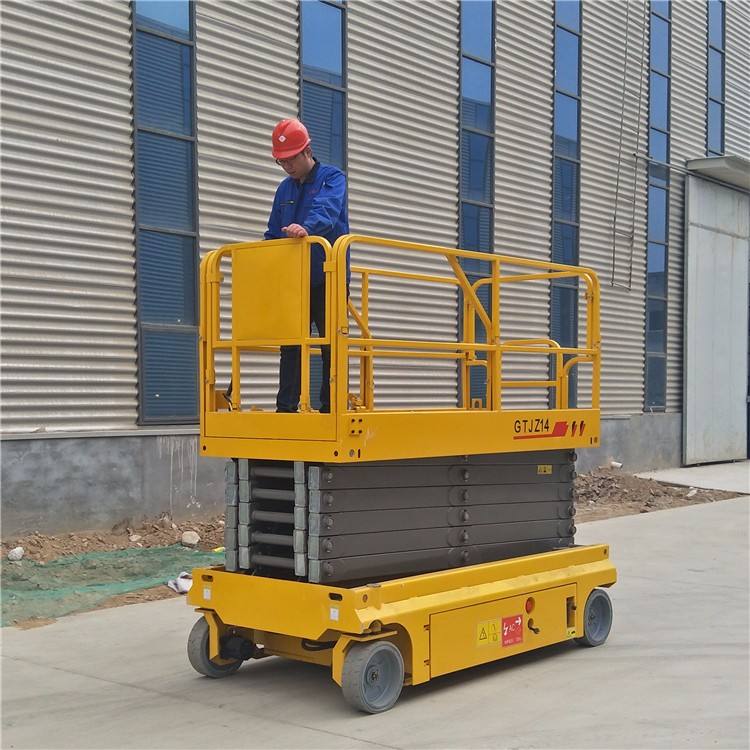 Rated Loading Capacity: 320kg
Max. Lifting Height: 14m
Type: GTJZ hydraulic electric
Package: Wooden case
Voltage: 220V, 380 V, 440V.
Lift Drive / Actuation: Hydraulic electric
Battery scissor lift specifications
Tables 
Model

SJYZ06

SJYZ08

SJYZ10

SJYZ12

Working Height

8m

10m

12m

14m

Platform Height

6m

8m

10m

12m

 Platform Size

2.27×1.12m

2.27×1.12m

2.27×1.12m

2.27×1.12m

Lift Capacity

300kg

300kg

300kg

300kg

Weight

1850kg

2250kg

2500kg

2800kg

Overall Dimension
(L*W*H)

2.48×1.15×2.18m

2.48×1.15×2.34m

2.48×1.15×2.48m

2.48×1.15×2.59m

Lift-Up

30s

37s

45s

50s

Lift-Down

30s

32s

35s

38s

Gradeability

25%

25%

25%

25%

Maximum Tilt

3°

3°

3°

3°

Battery

4x6V

4x6V

4x6V

4x6V
Product
presentation

Small scissor lift is widely used to workshop building site, hotel, airport, station, dock and so on.
Mainly used to installing, repairing and cleaning high aerial equipment, power equipment, overhead pipeline and so on.
It is an ideal equipment for guaranteeing working safe, improving working efficiency and making aerial working, more convenient and quick.

Security 
assurance

1. Battery scissor lift control voltage is DC24V.Keeping working person safe.
2. Electrical control box is water-proof design.

3. Installing Emergency button, Can keeping working person safe.
4. Self-locking function will work when electricity is suddenly cut off.

5. System have Emergency drop valve, which can let platform down safely, When electricity is suddenly cut off.
6. Four hydraulic supporting legs in button. which can keep machine stable.

Main
features

This type scissor lift own automatic walking function. Battery scissor lift can be used in different working condition, and do not need external power supply and artificial traction. Battery scissor lift is mobile flexible, convenient operation, lift freely, only one people can finish forward, backward, steering, fast and slow walk. It's easily moved with high working efficiency. This type scissor lift can be move while extended and controlled from platform by the operator. It is walking, reversing, turning and lifting can be achieved on the platform board, self-movement at a the full height. Low noise allows the operation personnel work in a silent environment and the large-angle steering system provides a good maneuverability.
Battery scissor lift table for sale
Battery scissor lift table is one of the most common lifting devices in the workshop. It is driven by a Battery and can be equipped with an auxiliary walking device. When the Battery is fully charged, it can be used normally for 8 hours. It is a very economical and economical product for lifting transportation. DFLIFT offers you a variety of scissor lifts.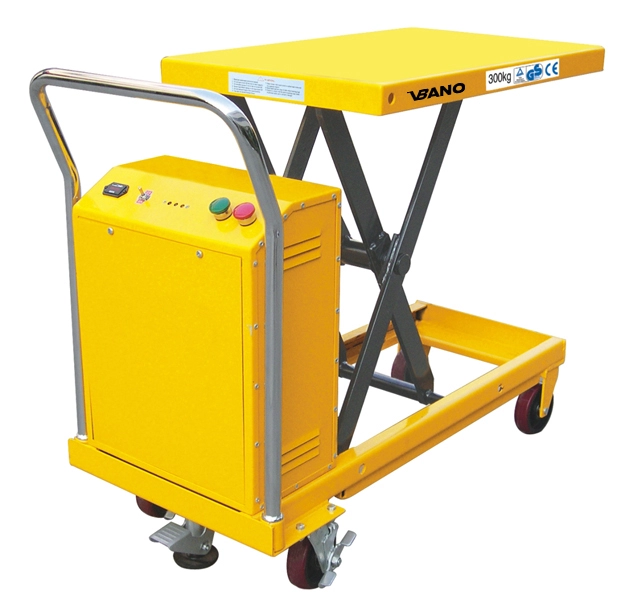 Capacity: 150-3000KG
Lift Drive / Actuation: Hydraulic
Min. Lifting Height: 350mm
Hydraulic: Foot-type hydraulic
Product Type: Mini scissor lift table
Battery scissor lift table Main specifications
| | | | | |
| --- | --- | --- | --- | --- |
|  Model |   | PA-150 | PA-300 | PA-500 |
|  capacity | kg | 150 | 300 | 500 |
|  table size | mm | 700 x 450 | 815 x 500 | 815 x 500 |
|  raised height | mm | 720 | 900 | 900 |
|  lowered height | mm | 210 | 280 | 280 |
|  caster size | mm | 100 | 125 | 125 |
|  net weight | kg | 40 | 76 | 84 |
DFLIFT Battery scissor lift advantages:
1. Battery scissor lifts provide excellent capacity and generous platform workplace with a high stability. They are easy to move around and control. 
2. The control system and emergency button are both set on the lifting platform and the base, which make them reliable and flexible for operation.
3. Battery scissor lift status of use of the machine can be reacted by the self-test and alarm alert.   
4. The anti-slip mat on the platform can increase the safety of the workers. 
5. The hydraulic power helps the non-slip casters run flexible and stable.