50 feet (15 meter) scissor lift is driven by battery power and adopts mobile and self-propelled system, which is pollution-free and noise-free. It is suitable for high-altitude installation and maintenance of hotel, auditorium, stadium, large factory, workshop, warehouse, etc.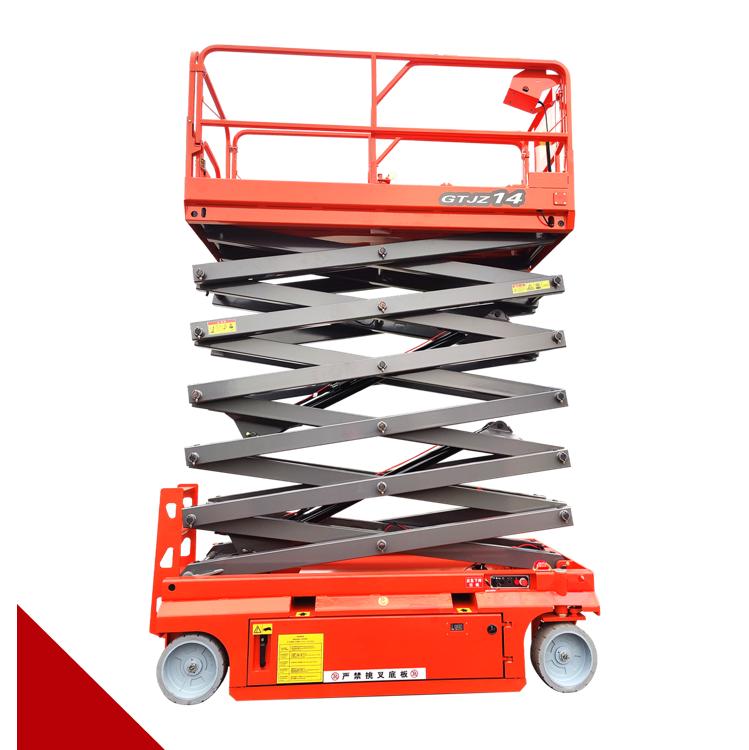 50 feet (15 meter) scissor lift parameter
Rated Loading Capacity:300kg-500kg
Max. Lifting Height:50 foot (15 meter)
Grade ability:
25%
Battery:
4ps battery
50 feet (15 meter) scissor lift design advantages:
1. Scissor lift can control walking and steering on the platform, and can walk fast and slow at different heights. It can continuously complete up and down, forward, backward and steering on the platform in the air. Walking motor, drive system, electric control assembly, handle assembly, battery, charger, main structure adopts high strength manganese steel rectangular tube, high strength, strong and durable.
2. It is composed of three parts: base, boom and table. The base is welded with corresponding strength steel plate. The boom is a shear hinged vertical lift.
3, with lifting platform overload hydraulic safety protection system.
4, 50 foot (15 meter) scissor lift equipped with anti-fall safety protection system to prevent pipe blowout.
5. Manual descending valve for emergency descending in case of power failure.
6. Adopt finely ground hydraulic cylinder and imported seals to ensure good sealing performance of the cylinder.
7. The height of the protective fence of lifting platform is between 900MM and 1200MM. Customers can choose the height of the fence according to requirements.