Single scissor lift supplier
Single scissor lift generally refers to only the structure of a pair of scissors lifting equipment, it by the contraction of the hydraulic cylinder and amplification function of the scissors to enlarge the telescopic hydraulic cylinder for elevating platform, Single scissor lift device is a kind of simple mechanical principle, usually divided into stationary single scissor lift and single scissor lift table two kinds, is one of the most common lifting cargo handling equipment. DFLIFT has 20 years of research experience in scissor lift, leading the world in the life of hydraulic cylinder and the rigidity of shear mechanism.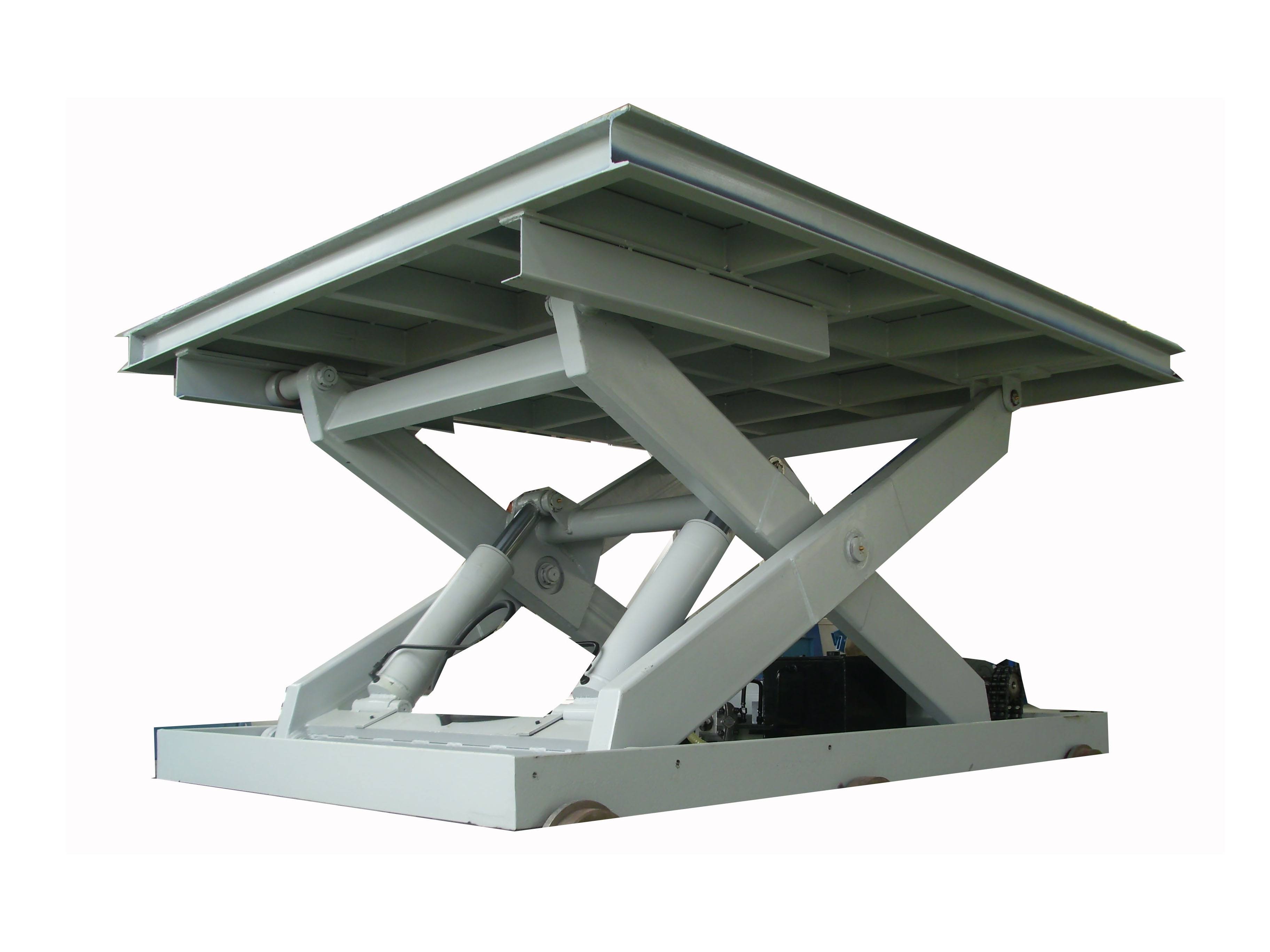 Model: single scissor lift
Rated Loading Capacity: 300kg-30ton
Certification: CE ISO
Control method: Control panel or control box
Lift Drive / Actuation: Electric Motor
Single stationary scissor lift

Safe operation procedures:
This lifting equipment is specially used for freight transportation, and it is strictly prohibited to carry passengers to avoid accidents.
Special personnel shall be responsible for operation to ensure safety.

Single stationary scissor lift

must be used within the rated load range. Overload is strictly prohibited.
The control system of the machine is controlled by the self-closing button. In case of abnormal rise or fall or other dangerous situations, the emergency stop button (red) should be pressed immediately and put into use after troubleshooting or danger.
When loading and unloading goods on the platform, press the emergency stop button (red). After loading and unloading the goods, evacuate the platform, close the guardrail door, remove the emergency stop, and carry out lifting operation to ensure safety.
Frequent inching operation of the button is prohibited to avoid reducing the service life of the machine or damaging the lifting platform due to gravity inertia.
At the end of use, or after work, when personnel leave their posts and stop using, the lifting platform shall be lowered to the lowest height and the total power shall be turned off in time.
The main power box should be locked, which can only be opened by professional operators, so as to avoid accidents caused by disoperation of other personnel.
Single stationary scissor lift technical parameters:
Tables 
 Model
Lifting height (m)
Min. height
Loading capacity (kg)
Table size (m)
Power (kw)
Rising time
(mm)
(s)
SJG0.5-4.5
4.5
750
500
2*1
2.2
77
SJG1.0-4.5
4.5
850
1000
2*1.5
3
80
SJG2.0-4.5
4.5
900
2000
2.2*1.5
2.2
90
SJG1.0-7.5
7.5
990
1000
2.2*1.8
3
100
SJG2.0-7.5
7.5
1065
2000
2.4*2.4
4
105
SJG2.0-1.8
1.8
700
2000 
2.5*2
3
50
SJG5.0-1.8
1.8
960
5000
3.5*2.5
4
88
Lift height & Bearing capacity & Table size all can be customized.
Single scissor lift trolley for sale
Full featured hydraulic single scissor lift tables are used by all types of manufacturing and warehouse facilities. Safety features include: electric toe guard to protect pinch points during lowering of the table, brass velocity fuse to maintain platform height regardless of hydraulic pressure, 24V AC push-button hand control, maintenance prop, and upper travel limit switch to stop table at maximum height reducing motor wear. 2HP, 460V, 3 phase, 60 Hz totally enclosed motor standard, other voltages available. 3000 psi hydraulic component rating.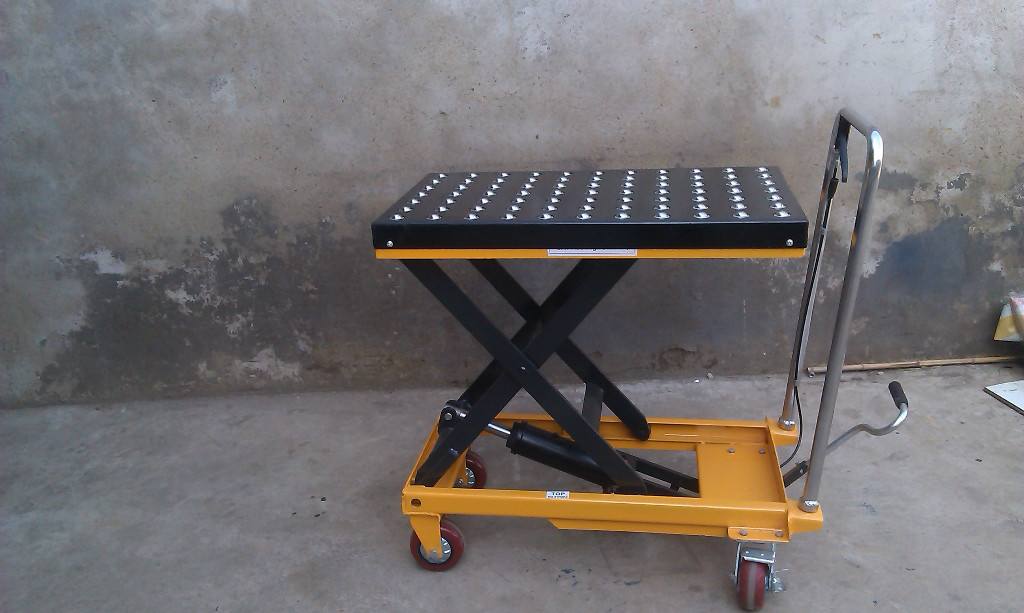 Rated Loading Capacity: 150kg 300kg 500kg 1000kg 1500kg 2000kg
330 lbs. 660 lbs. 1100 lbs. 2200 lbs. 3300 lbs. 4400 lbs.
Lifting height: 500mm-2000mm
After-sales Service Provided:Online support, Engineers available to service machinery overseas
Certification: CE ISO
Specification of Single scissor lifts trolley
| | | | | |
| --- | --- | --- | --- | --- |
| Model |   | CYT1000H | CYT1500H | CYT2000H |
| Capacity |  kg | 1000 | 1500 | 2000 |
| Max. Height |  mm | 1000 | 1000 | 1000 |
| Min. Height | mm | 380 | 380 | 380 |
| Table dimensions | mm | 1200X610X55 | 1200X610X55 | 1200X610X55 |
| Weight | kg | 165 | 180 | 196 |
| Packing Size | mm | 1400x620x400 | 1400x620x380 | 1400x620x380 |
| Quantity in 20'CP | units | 65 | 65 | 65 |
DFLIFT single scissor lift Service:
| | |
| --- | --- |
| Lead time | 3-4 weeks |
| Packing | Standard export fumigated wooden pallet, foam rubbers |
| Payment term | T/T payment in advance; L/C at sight |
| Lead term | FOB Shanghai or CFR/CIF |
| Warranty period | 12 months |
| Shipping method | by sea or air; by express |