Lightweight scissor lift is refers to the structure is smaller and lighter or load is small (usually load 1-2) of aerial work platform, Lightweight scissor lift structure is very easy to move to use site. Accord with human body engineering, the operation is very simple, also due to its weight is light, so it is easily done by one person operation, make originally need a lot of manpower and time to complete the work to be done very easily by one person. Usually used for civil or workshop maintenance and cleaning.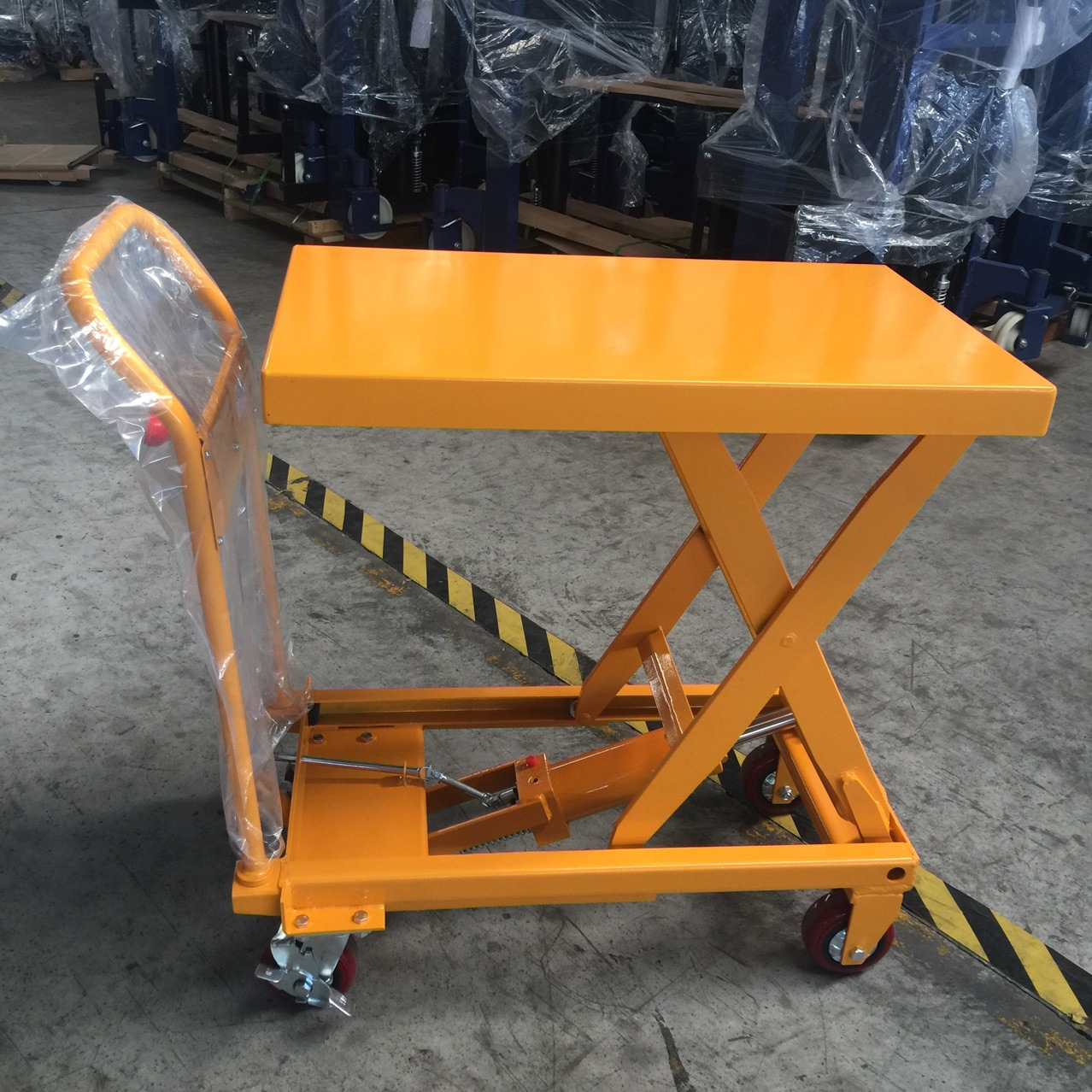 Capacity: 150-3000KG
Lift Drive / Actuation: Hydraulic
Min. Lifting Height: 350mm
Hydraulic: Foot-type hydraulic
Product Type: Mini scissor lift table
The platform of Lightweight manual scissor lift can be customized with skid proof, and can also be equipped with fence to prevent some prototype goods from rolling down, and the table can also be added with rollers to facilitate loading and unloading. The Lightweight manual scissor lift table and the whole table can be made of stainless steel or aluminum alloy to transport some food or corrosive goods.
Lightweight manual scissor lift Specification parameter list
Tables 
| | | | | | |
| --- | --- | --- | --- | --- | --- |
| Model | BSS10 | BSS20 | BSS30 | BSS50 | BSS75 |
| Lifting Capacity (kg) | 100 | 200 | 300 | 500 | 750 |
| Min. Height (mm) | 265 | 330 | 330 | 435 | 442 |
| Max. Height (mm) | 755 | 910 | 910 | 1000 | 1000 |
| Platform Size (mm) | 700*450 | 830*500 | 830*500 | 1010*520 | 1010*520 |
| Wheel Size (mm) | 100 | 125 | 125 | 150 | 125 |
| Overall Size (mm) | 950*450*1000 | 1010*500*1000 | 1010*500*1000 | 1158*520*1000 | 1260*520*1000 |
| Net Weight (kg) | 40 | 78 | 80 | 118 | 137 |
Lightweight mobile scissor lift
Lightweight mobile scissor lift, also known as man scissor lift, is usually used for high-altitude cleaning or lamp maintenance, which usually needs to go through narrow passageways or doorways. As most platforms are used to carry people, its table size and payload are relatively small, usually about 200kg. Usually hydraulically driven by a battery, DFLIFT provides you with the most suitable scissor lift.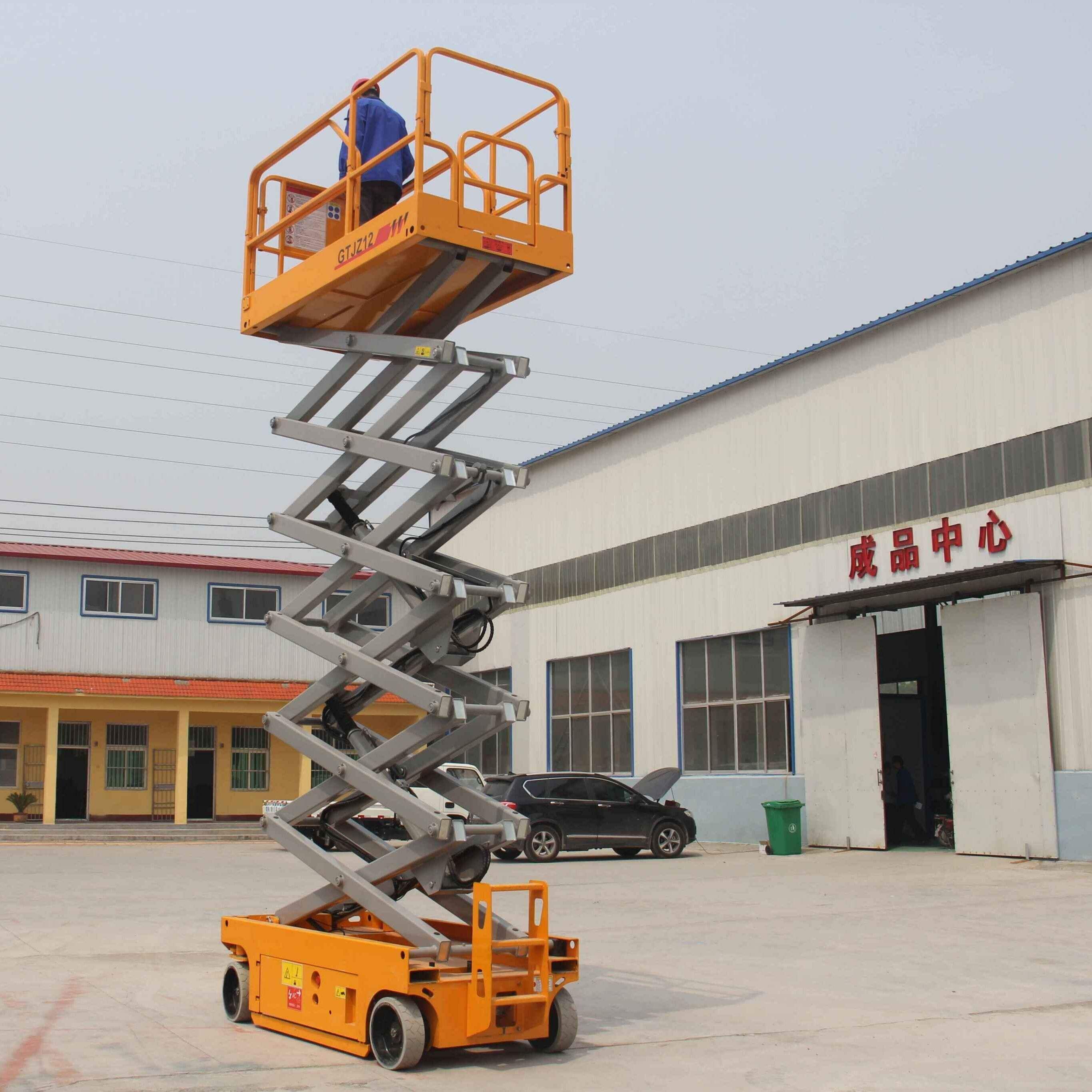 Rated Loading Capacity: 320kg 480kg
Min. Lifting Height: 800mm
Max. Lifting Height:16000mm
Main Material: High duty steel
After-sales Service Provided: Field installation, commissioning and training
Platform: Anti-skid Checkered Plate
Voltage: 110V,220V,380V, customized
Lightweight mobile scissor lift Specification parameter list
Model

SPS0.3-6

SPS0.3-8

SPS0.3-10

SPS0.3-12

Platform height

6m

8m

10m

12m

Work height

8m

10m

12m

14m

Load capacity

300kg

300kg

300kg

300kg

Dimension

2.48*0.81*1.87

2.48*0.81*1.89

2.48*1.5*1.92

2.48*1.15*2.04

Platform size

2.27*0.81m

2.27*0.81m

2.27*1.12m

2.27*1.12m

Extension deck

0.90m

0.90m

0.90m

0.90m

Drive motor

24V/1.5KW

24V/1.5KW

24V/1.5KW

24V/1.5KW

Lift motor

24V/3.3KW

24V/3.3KW

24V/4.5KW

24V/4.5KW

Travel speed

4.0km/h

Wheel

Φ300*100mm

Weight

2125kg

2180kg

2965kg

2910kg
Lightweight fixed scissor lift
Lightweight scissor lift

Safety features and advantages

1) Explosion-proof lock valve to avoid a sudden drop if emergency occurs.
2) All the trailing scissor lift is passed 1.2 times loading test before leaving factory.
3) The limit switch system helps the lift table to stop at accurate position.
4) The safety rails to guarantee safety of the people above platform
Why choose DFLIFT Lightweight scissor lift?
DFLIFT is a professional manufacturer of hydraulic lifting platform, hydraulic lift, Board Bridge and other series of mechanical products. Since the establishment of the company, the continuous pursuit of technological progress, committed to product innovation.
Our company has a total of 8 series of more than 60 products, leading products QYCY series scissors lifting platform, GTJZ series automatic scissors lifting platform.
At the same time, we can also customize the special scissor lifting platform according to the needs of customers, to meet the needs of customers in various fields. We adhere to the spirit of integrity, professionalism, innovation, to achieve the future of product quality, adhere to research and development, learn from foreign advanced technology and process experience, and constantly improve and improve the level of technology and process, to meet the different needs of customers.